Flat Iron Mesa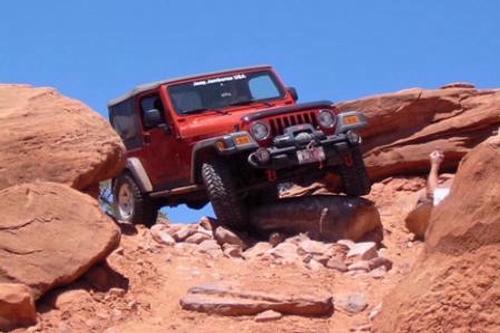 Flat Iron Mesa is south of Moab and is bounded by Kane Springs Canyon on the north, Hatch Wash Canyon on the west, West Coyote Canyon on the south, and Highway 191 on the east. A main road has a BLM sign, but our trail leaves the highway earlier and it quickly gets 4WD status on numerous old trails that reach fine canyon overlooks and provide some interesting four-wheeling. There are multiple obstacles that provide the rating number, some have bypasses, some don't. If the Easter Egg Rock section is elected, once the excitement of squeezing past the rock has subsided, there is a harrowingly narrow section on a cliff edge that must be negotiated. Approximate mileages: 55 total. 17 off road.
Scenery
There are views of the La Sal Mountains, local cliffs, and different canyons throughout the trail. The cliffs and canyon walls near Kane Springs and Muleshoe Canyon are especially beautiful. Hatch Canyon is about 700 feet deep at the overlook where West Coyote Creek joins it in a series of cascades.
Surface
Much of the trail is two-track on sand that is occasionally dusty and is always inlaid with bedrock. There are sections of slickrock, a gravelly hill, and numerous rocky ledges.
Trail Details
This trail offers such a wide variety of scenery and four wheeling challenges that it is difficult to pinpoint individual spots. Of course the "Tilt-A Whirl" and "Easter Egg Rock" obviously earned names for the four wheeling excitement, but there are many more unnamed spots sprinkled along the trail that always keep it interesting.
Trail Rating

Trail Notes
Length: 55 total, 17 off highway
Min Tire Size: 35+ inches
Winch: No
Front Locker: Yes
Rear Locker: Yes
download the kml google earth track